A Few Good Men (1992)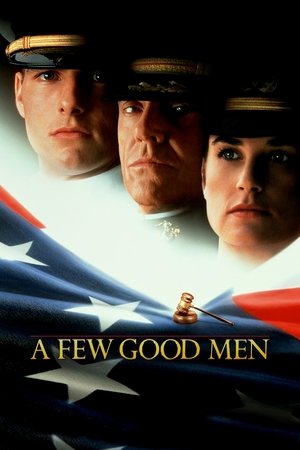 A Few Good Men (1992)
Drama Movie 138 Min with the title A Few Good Men (1992), story about When cocky military lawyer Lt. Daniel Kaffee and his co-counsel, Lt. Cmdr. JoAnne Galloway, are assigned to a murder case, they uncover a hazing ritual that could implicate high-ranking officials such as shady Col. Nathan Jessep.
Release: Dec 11, 1992
Duration: 138 Min
Genres: Drama
Tom Cruise
Lt. Daniel Kaffee
Jack Nicholson
Col. Nathan R. Jessep
Demi Moore
Lt. Cdr. JoAnne Galloway
Kevin Bacon
Capt. Jack Ross
Kiefer Sutherland
Lt. Jonathan Kendrick
Kevin Pollak
Lt. Sam Weinberg
James Marshall
Pfc. Louden Downey
J.T. Walsh
Lt. Col. Matthew A. Markinson
Christopher Guest
Dr. Stone
J.A. Preston
Judge Randolph
Matt Craven
Lt. Dave Spradling
Wolfgang Bodison
Lance Cpl. Harold W. Dawson
Xander Berkeley
Capt. Whitaker
John M. Jackson
Capt. West
Noah Wyle
Cpl. Jeffrey Barnes
Cuba Gooding Jr.
Cpl. Carl Hammaker
#Tags:
suicide
,
underdog
,
suspicion of murder
,
court case
,
navy
,
law
,
dying and death
,
guantanamo bay
,
marine corps
,
military court
,
code red
,
command
,
military base
,
u.s. navy
,
sexism
,
right and justice
,
flashback
,
based on play or musical
,
court martial
,
platoon leader
,
military law
,
legal thriller